"It is a week of adventure, challenges, new sights, sounds, and smells, and spiritual growth."
WSCS has been teaming with Three Springs Ministry to take our 11th & 12th grade students to Window Rock, Arizona to minister to the Navajo Nation.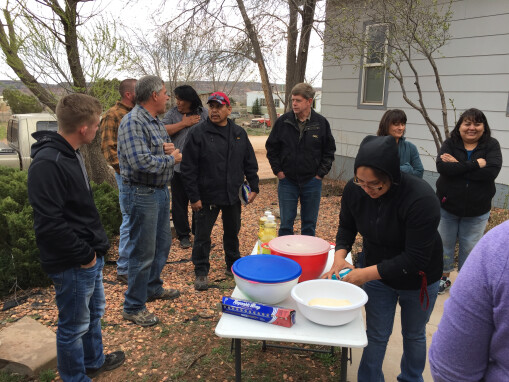 This event is part of the students' classwork as they are immersed in the Navajo culture. The week is spent ministering at Western Indian Ministries and on the reservation. Past events have included teaching young children at Hilltop Christian School and working with the lunch program, serving on the reservation by repairing homes, and assisting with the radio station. Two years ago the Navajos honored the students by hosting a dinner in which sheepshead was on the menu! The meal included Navajo tacos (with the students making the bread), sheep's tongue, and sheep's eyeballs.
And, the trip is not without some geography lessons. Visits to the Grand Canyon and Canyon de Chelly, along with camping at the Grand Canyon with nighttime temperatures in the 20's, and a stop at an Native American pawn shop were part of these trips. The lessons packed into a few days could not be learned in the classroom. Culture, history, geography, hard work, extreme swings in weather, and most of all purposeful relationship building experiences in such a short timeframe make for an exhausting week.
It is a week of adventure, challenges, new sights, sounds, and smells, and spiritual growth. As they are exposed literally to a third world nation situation, their hearts are touched; for poverty, alcoholism, and high suicide rates challenge the students' hearts. They certainly return thankful for God's daily blessings, but part of their hearts are left at the Navajo Nation. Relationships have developed, lives are being touched both here and in Arizona, and God is leading. As the students depart for their fourth trip, they are looking forward to new and exciting but challenging experiences.
If you would be interested in supporting this ministry, please click the give link on the side.